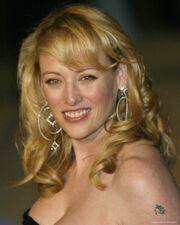 Virginia Madsen (b. September 11, 1961) works as an American actress and documentary film producer. She was famous during the 1980s, appearing in several films for teenage audiences. She is the voice actress of Arella, Raven's mother, in the Teen Titans animated series.
Ad blocker interference detected!
Wikia is a free-to-use site that makes money from advertising. We have a modified experience for viewers using ad blockers

Wikia is not accessible if you've made further modifications. Remove the custom ad blocker rule(s) and the page will load as expected.