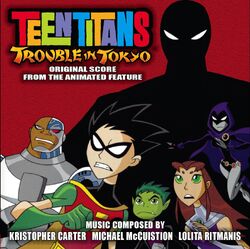 Teen Titans - Trouble in Tokyo (Soundtrack) contains the background music of the the series finale movie.
Release Date: July 22nd, 2008
Music Composed by...
Kristopher Carter
Michael McCustion
Lolita Ritmanis
Tracks
Meet Saico Tek (5:18)
Interrogation (1:28)
Main Title (2:36)
Tokyo Arrival (1:28)
Monster Attack (4:36)
Troopers Tour + Robin's Disappointment (1:46)
Titans Watched (1:52)
Starfire Wins Videogame (1:18)
Moment Lose (2:39)
Tokyo Skyline + Robin Blots Out Sacio Tek (4:11)
All You Can Eat/Boy Troubles (2:01)
Titans Attack (1:51)
The Note (0:51)
The Fight Continues (2:43)
Raven Finds Books/Robin Goes Underground (1:19)
Play It Louder (0:55)
Bar Fight (1:18)
Motorcycle Chase (1:58)
Brushogun Origin (2:17)
Chasing Titans (1:58)
Meet Brushogun (1:58)
Villains Makin' Copies (2:16)
Final Battle (4:20)
The Kiss (0:55)
Tokyo's Newest Heroes (1:58)
End Credits (1:59)
Total Time  - 53:33
Ad blocker interference detected!
Wikia is a free-to-use site that makes money from advertising. We have a modified experience for viewers using ad blockers

Wikia is not accessible if you've made further modifications. Remove the custom ad blocker rule(s) and the page will load as expected.