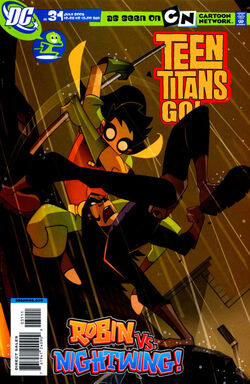 Night Time is issue 25 of Teen Titans Go.
Writer: J. Torres
Interior Artwork: Todd Nauck and Lary Stucker
Cover by: Sean Galloway
Release date: July 1, 2006
Plot
Nightwing comes back from the future to warn the Teen Titans and put a stop to the force of evil that will destroy them all but is that force of evil Robin himself?
Trivia
When Starfire whispered something in Robin's ear, it's most likely that she may have revealed her feelings for him in order to stop the fight.
Nightwing returns.
It's revealed that the Titans in the future raised Warp and made him a Titan.
Gallery
Ad blocker interference detected!
Wikia is a free-to-use site that makes money from advertising. We have a modified experience for viewers using ad blockers

Wikia is not accessible if you've made further modifications. Remove the custom ad blocker rule(s) and the page will load as expected.