Mirage is a member of the Team Titans from Killowat's home dimension. She has the ability to create illusions to confuse people.
She is revealed to have a counterpart in the main Teen Titans' dimension in issue #50 of
Teen Titans Go!
, living somewhere in Mexico/South America. She later joins Titans North along side
Flamebird
(shown in the picture to the left.)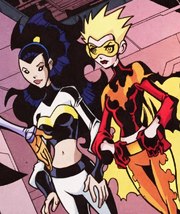 Ad blocker interference detected!
Wikia is a free-to-use site that makes money from advertising. We have a modified experience for viewers using ad blockers

Wikia is not accessible if you've made further modifications. Remove the custom ad blocker rule(s) and the page will load as expected.