Teen Titans
(view all pages)
Villains
Featured Article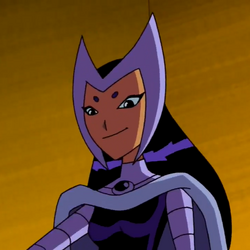 Blackfire is Starfire and Wildfire's older sister, the firstborn princess, and eldest daughter of the long-dead King and Queen of Tamaran. She is the former Grand Ruler/Empress of Tamaran. She serves as Starfire's arch-nemesis. Like her sister, Blackfire is shown to be very beautiful. Her growing long black hair is down to her waist and straight with bangs. Compared to Starfire's outfit, it acts more like full-body armor with a black crop top, mini-skirt, and thigh-high boots. Though she is Starfire's older sister, the two are polar opposites. She also has the optimum qualities of a villain, and she is cunning, deceitful, immoral, sadistic and unremorseful. The two almost never get along well, except when Blackfire tricks Starfire into thinking she's being nice. Blackfire is constantly trying to, in some way, do away with Starfire, first with getting her arrested and then trying to marry her to an ooze alien. Blackfire loves fighting her sister and rubbing the fact that she is older and stronger in her little sister's face. The two of them are poster children for sibling rivalry. She has a very sarcastic sense of humor and always hurts Starfire's feelings. Blackfire is also quite vain and loves telling stories about herself. Blackfire is also quite pretty, and she knows it and uses it to her advantage when around boys. This is seen in the second episode, Sisters when she developed a crush on Robin upon meeting him and tried to gain his attention and affection, but this could also have been a ploy in further isolating her sister from her friends. (Read More...)
---
Important News
Teen Titans Go! TV Series
Due to a recent glut of edits to the contrary, I'm going to go ahead and post here that the Teen Titans Wiki is only for content relating to the original animated series, its comic book spinoff, and the related games. We will not be recording the data for this new series, as it is not in continuity with the original series. There is already a Teen Titans Go! Wiki for content pertaining to the new TV series. Please add such information there.
Inappropriate Images
After a lengthy round of deleting, I'm making an announcement here about what images are and aren't allowed. Screencaps, comic scans, and other official images are perfectly okay, as long as they're from the original Teen Titans and the Teen Titans Go! comic. Images from other comics are not acceptable (excepting when they're used to illustrate a point about the Teen Titans iteration of the character), nor are images from other DC cartoons; this is, after all, the Teen Titans Wiki. In addition, drawings, photoshops, or any other type of fanmade images have no place here whatsoever. Please keep these rules in mind in the future, as Admins will start handing out punishment from here on out.
Young Justice TV Series
Cartoon Network's Young Justice is an animated TV series based on the popular DC comic Young Justice, and is similar to Teen Titans, due to its relatable storyline of a group of younger superheroes. Feel free to add to their wiki page, but do not post Young Justice information here, please.
Teen Titans Is Back On Boomerang!
Don't Forget To Watch! It's on from 11-12 every night (by NY time, anyway)
Teen Titans is re-running on Boomerang, with lots of support and viewers there is the possibility for a next series (we hope). As they will see there is high interest for the show! "Cartoon Network's sister channel Boomerang will begin airing episodes of Teen Titans as part of their new "Boomeraction" block. Its regular slot will be at 10:30 PM (EST), with the other shows in the block being Justice League Unlimited (at 11:00 PM, EST) and The Batman (at 11:30 PM, EST)."
Fan Fiction
Want to write a Titans story of your own?
As certain users here have expressed the desire to write fan fiction of
Teen Titans
(and as the series itself has ended, making it unlikely to have further exclusive news), the Teen Titans Fan Fiction Wiki has been created for exactly such a purpose, though is still ripe in its development. Please go here:
Teen Titans Fan Fiction wiki
and create an account to start writing fan fic!
Poll
Should this wiki activate the "Related Videos" module that places videos on the wiki's sidebar?