Issue 21 :Garsaurus REX Attacks!
Writer:
J. Torres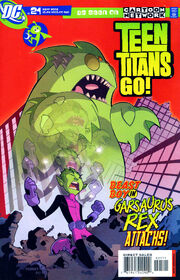 Interior Artwork:
Todd Nauck and Lary Stucker
Cover by:
Sean Galloway
Release date:
July 27, 2005
Plot
Professor Chang blasts Beast Boy with his new G.A.R.T.H. Gun and transforms him into a Garthzilla! When the giant green monster starts trashing the city, the Titans have no choice but to bust out their secret weapon: the Titans Go-Bot 5!
References
Ad blocker interference detected!
Wikia is a free-to-use site that makes money from advertising. We have a modified experience for viewers using ad blockers

Wikia is not accessible if you've made further modifications. Remove the custom ad blocker rule(s) and the page will load as expected.