Issue 17 : Anger Management
Writer:
J. Torres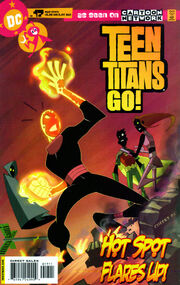 Interior Artwork:
Mike Norton and Lary Stucker
Cover by:
Sean Galloway
Release date:
March 30, 2005
Plot
The Titans try in vain to teach the ill-tempered Hot Spot anger management! Cyborg makes a containment suit that keeps Hot Spot's temperature and temper in check. But when a villain strikes, Hot Spot is completely useless...
Trivia
The words that open verse 2 of Starfire's folk song are the chant at the beginning of the song "Hooked on a Feeling."
References
Ad blocker interference detected!
Wikia is a free-to-use site that makes money from advertising. We have a modified experience for viewers using ad blockers

Wikia is not accessible if you've made further modifications. Remove the custom ad blocker rule(s) and the page will load as expected.